Gisborne and East Coast Championships 2013
The East Coast and Gisborne Champs was held at the Gisborne range over the weekend of 2 and 3 Feb in very difficult wind and mirrage conditions.
Day one being 10 shots to count at 800, 900 and 1000 yards (East Coast Champs).
Day two with 15 shots at 900 and 1000 yds were both shot in similar conditions with a variable right wind out to 8 minutes swinging back through zero. You needed to be watching mirrage and the top three flags closely.
East Coast Championships - 2 February 2014
DAY ONE
LASTNAME
INIT
GRADE
CLUB
800
900
1000
TOTAL
KERRIDGE
R
F-O
TE PUKE
58.00
55.00
47.00
160.00
HOFTMAN
P
F-O
GISBORNE
58.00
48.00
48.00
154.00
MELDRUM
SR
F-O
CLEVEDON
57.00
44.00
47.00
148.00
MYSLINSKI
J
F-O
GISBORNE
51.00
48.00
41.00
140.00
PIPER
GL
F-TR
HAM WHATAWHATA
50.05
40.02
42.03
132.10
MONTGOMERY
A
F-TR
GISBORNE
46.03
42.03
44.03
132.09
HOPE
D
F-TR
GISBORNE
0.00
40.02
37.01
77.03
CARTER
B
TR-A
TE PUKE
50.04
45.00
49.02
144.06
COLLINGS
DR
TR-A
TE PUKE
49.02
43.02
45.03
137.07
COLLINGS
MJ
TR-A
TE PUKE
50.05
46.04
42.00
138.09
DOYLE
A
TR-A
PETONE
49.02
41.00
45.01
135.03
WHITEMAN
O
TR-A
MASTERTON
48.07
41.01
40.03
129.11
JOHANSEN
R
TR-A
GISBORNE
50.06
41.02
43.02
134.10
CAMERON
I
TR-A
TE PUKE
48.03
41.02
40.01
129.06
FREIMAN
H
TR-A
PETONE
50.06
40.02
42.03
132.11
BUCKLEY
ME
TR-A
TE PUKE
50.05
34.00
38.00
122.05
PHILLIPPS
J
TR-A
PETONE
49.03
43.02
35.02
127.07
WIN
K
TR-A
ONSLOW
44.03
40.02
37.00
121.05
RUITERMAN
R
TR-A
TE PUKE
48.02
42.01
40.03
130.06
GOLDSMITH
C
TR-A
UPPER HUTT
48.05
38.04
42.02
128.11
DICKSON
AJ
TR-A
TE PUKE
48.03
42.02
44.00
134.05
TIDSWELL
P
TR-B
TARANAKI
50.05
38.01
42.02
130.08
BALL
J
TR-B
TE PUKE
48.03
38.01
43.02
129.06
DOOLING
P
TR-B
OTOROHANGA
49.04
36.02
40.00
125.06
HOUGHTON
L
TR-B
CLEVEDON
50.05
36.01
34.00
120.06
DRAKE
AE
TR-B
TARANAKI
48.02
36.01
32.01
116.04
SCOBIE
J
TR-C
OTOROHANGA
50.05
42.01
34.01
126.07
WILLIAMS
J
TR-C
CLEVEDON
42.10
39.02
43.01
124.13
LUXFORD
M
TR-C
HAWKES BAY
42.02
39.00
41.02
122.04
MARSHALL
L
TR-C
HAWKES BAY
47.02
35.00
37.00
119.02
HEWITT
W
TR-C
ONSLOW
44.02
40.03
30.02
114.07
CAMERON
S
TR-C
TE PUKE
34.01
30.00
29.02
93.03
GISBORNE CHAMPIONSHIPS - 3 FEB 13
DAY TWO
LASTNAME
INIT
Grade
CLUB
900
1000
TOTAL
KERRIDGE
R
F-O
TE PUKE
85.00
79.00
164.00
MELDRUM
SR
F-O
CLEVEDON
81.00
60.00
141.00
MYSLINSKI
J
F-O
GISBORNE
69.00
59.00
128.00
PIPER
GL
F-TR
HAM WHATAWHATA
70.09
52.01
122.10
MONTGOMERY
A
F-TR
GISBORNE
74.10
63.02
137.12
HOPE
D
F-TR
GISBORNE
68.04
44.03
112.07
COLLINGS
DR
TR-A
TE PUKE
67.05
67.03
134.08
WHITEMAN
O
TR-A
MASTERTON
71.07
61.02
132.09
CARTER
B
TR-A
TE PUKE
71.03
61.02
132.05
BUCKLEY
ME
TR-A
TE PUKE
74.09
57.01
131.10
COLLINGS
MJ
TR-A
TE PUKE
71.05
60.03
131.08
DOYLE
A
TR-A
PETONE
64.00
67.03
131.03
WIN
K
TR-A
ONSLOW
68.03
62.01
130.04
JOHANSEN
R
TR-A
GISBORNE
70.07
56.02
126.09
CAMERON
I
TR-A
TE PUKE
66.03
60.04
126.07
PHILLIPPS
J
TR-A
PETONE
65.04
59.02
124.06
FREIMAN
H
TR-A
PETONE
66.04
55.00
121.04
GOLDSMITH
C
TR-A
UPPER HUTT
66.03
50.00
116.03
RUITERMAN
R
TR-A
TE PUKE
57.00
58.02
115.02
DICKSON
AJ
TR-A
TE PUKE
59.03
46.01
105.04
TIDSWELL
P
TR-B
TARANAKI
66.04
44.02
110.06
BALL
J
TR-B
TE PUKE
63.01
59.02
122.03
DOOLING
P
TR-B
OTOROHANGA
63.02
52.00
115.02
HOUGHTON
L
TR-B
CLEVEDON
68.05
41.01
109.06
DRAKE
AE
TR-B
TARANAKI
62.02
49.04
111.06
SCOBIE
J
TR-C
OTOROHANGA
70.05
51.02
121.07
WILLIAMS
J
TR-C
CLEVEDON
59.03
59.03
118.06
LUXFORD
M
TR-C
HAWKES BAY
63.03
52.02
115.05
MARSHALL
L
TR-C
HAWKES BAY
60.04
52.02
112.06
HEWITT
W
TR-C
ONSLOW
57.02
48.00
105.02
CAMERON
S
TR-C
TE PUKE
32.00
33.00
65.00
TOP 5 OVER THE 2 DAYS
DAY 1
DAY 2
GRADE
CARTER
B
TR-A
TE PUKE
144.06
132.05
276.11
COLLINGS
DR
TR-A
TE PUKE
137.07
134.08
271.15
COLLINGS
MJ
TR-A
TE PUKE
138.09
131.08
269.17
DOYLE
A
TR-A
PETONE
135.03
131.03
266.06
WHITEMAN
O
TR-A
MASTERTON
129.11
132.09
261.20
Targets at 800 Day One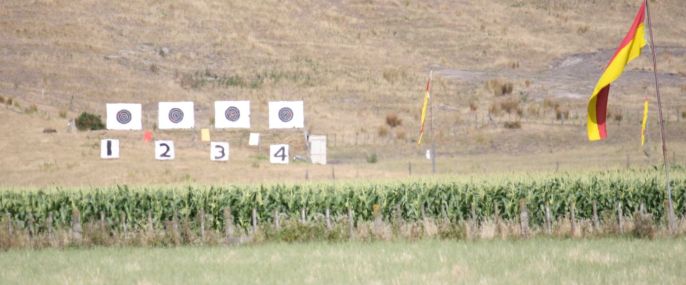 Lunch in the shade
True Flite NZ presents a barrel to this years winner