Report 4 from Brisbane
A practice day for the Australian Match tomorrow, a nice dull morning, the odd drop falling from the sky but no-one getting wet, the forecast is for a hot afternoon so I'm enjoying these conditions (some people cope better in the heat than others, I'm afraid I'm better suited to the NZ climate than these high-20's temperatures).
So I'm hanging around trying to be helpful but there are plenty of Indians running around the team, getting all the comms equipment sorted for the coaches so they know how much wind to put on when the flags are, er, pointing straight down the flagpoles. Oh no, there was a puff of wind there, the flags moved, so the equipment could be useful after all. (I'd better not say things like this close to Management or I'll get sacked- I'm sure this equipment will help the Team in the longer ranges) (Yes, it was needed at 900 & 1000!). This afternoon I can have a practice to get my sighting right at the longer ranges but till then I'm thinking of ways to make these reports a bit more interesting. So I've come up with some anagrams and will try and embarrass some people each day (without again getting the sack).
Today's anagram is: E's most gay child
Having lunch now at the Pacific clubrooms, what a generous group of people here! We have complimentary hot drinks, can purchase drinks & snacks and John Schafferius is selling some of his old shooting stuff with all proceeds going to the NZ Under 25 Team. Wow, a huge thanks to that man! And a huge thanks to the man with a scanner/printer who helped us get our export paperwork photocopied.
Thanks to Kevin Win for coaching me at 900 before lunch to determining where my zero is, that'll help me hugely over the next week.
I will try and get some supermarket shopping done this afternoon, my nutritionist would be aghast at what I'm eating now. How to resist the smell of the barbies on the range! So, unless there's any more earth-shattering news, this is it for today. Apart from this pic... I shouldn't but, what the heck, time to embarrass some more people...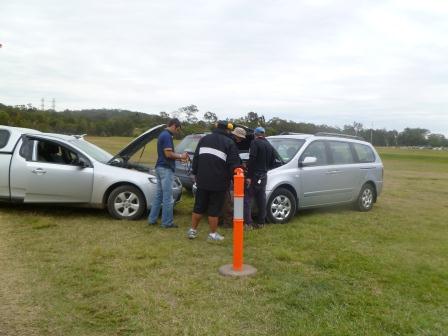 (I'm very thankful no-one took pics when I got the van stuck in the mud on Saturday...thanks to the Vets who helped me, not even a snigger was heard, they're such a lovely bunch of guys! Yes Ross, I forgive you for driving past, I'm sure you were in a hurry to get to your target in time for scoring...)
Coby Snowden