Report 7 from Brisbane
Take a look at the results from NRAA Queens
Report from Brisbane, Wednesday 12 Oct. 11
The Australia Queens started today and yup, another scorcher day. I have a few minutes now before a very elite small group of us go and meet the Mayor of Redlands. Getting into our number 1s now I am remembering the wonderful person who organised our uniform and I don't think we've given her a public Thanks as yet. So Thanks Diane Crow! (But next time I want a light summer dress!), it was good to have the one contact for all our gear and it all arrived in plenty of time. The name badges are also appreciated, they look good against the black blazers, thanks also to Di for organising those.
So, in order to get showered and to the function by 5 I have delegated the score gathering this afternoon to Geoff Smith and I have not caught up with him with these results. But if you desperately want to know the scores of your favourite Kiwis just go to the NRAA website. After a couple of glasses of wine on a hot night (and little fingerfood) it is probably best I don't try and get the spreadsheets done tonight (even tho I'm sure it's full of 50's).
The wind was a bit tricky today, especially at 600 yards. At 500 yards some of us were slightly distracted by the croc in the pond just in front of the mound, turns out some of us are rather gullible, t'was a fibreglass practical joke.
Today's anagram is: Long 'n Youth? Na
I did not get a chance to take any pics today, I got too excited and dropped my camera last night when Sam streaked through the village - the things the young ones will do for a hundred bucks!!
Here's one I took the other day, the NZ and All Blacks flags flying on the range: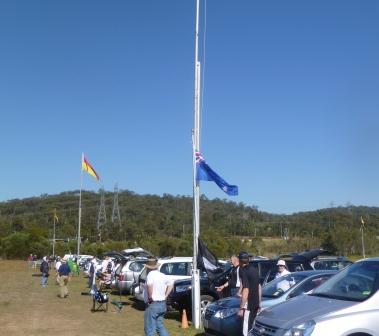 Coby Snowden