Report 8 from Brisbane
Take a look at the results from NRAA Queens
The second day of the Queens today, and yes, you guessed it, another hot morning. I struggled all morning with the heat, had to towel my face down several times during each shoot. At the start of 900yards the clouds started to appear and midway through this range the announcement from the Range Officer was : "Please shoot quickly or else you'll get a wet behind very soon". Lightning struck while Amy was shooting, she was last on her board, but the torrential rain waited till we were all safe in the QRA bar.
I am sorry I missed last night's presentations, and omitted to report that Charlotte came away with more prizes, and she had another fantastic day today.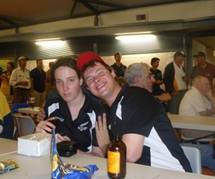 Spot the winner!
Today she won the Gold medal for 800 yards and 900 yards and the day's aggregate. Cathy came second in the 800 in A Grade. The C Grade Day's aggregate was a Kiwi clean sweep with Lance Wilson winning the Silver medal and Andrew Whooley Bronze. The only Kiwi on the whiteboard at the end of today is Snowdie at 31st spot. Thinks he's a smart-alec now and while Amy and I made a dash for the car in the rain he decided to dawdle along and purposely let us get soaked. An you all thought he was a gentleman! Said something about payback for all the back-seat driving we are subjecting him to every day. (we're just trying to be helpful!) (Amy's favourite saying is "drive it like you stole it, John!".)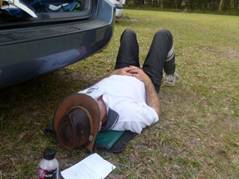 Snowdie taking a rest, it's hard work shooting well and obeying these back-seat drivers.
Team NZ barbeque tonight. Yup, how to make it rain...organise a barbeque, thanks Alan. Great food, even had chocolate desserts there, wow, top marks to the organisers.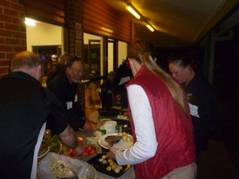 Alan worrying he didn't buy enough prawns (there was plenty!!)
Yesterday I omitted to report the Veterans scores, I only received those this morning (I delegated that job too) and are now included on our spreadsheet. But, they are staying at another motel so I generally won't get those results till the next morning. But I hear this website has a direct link to the NRAA scores site which makes my job rather redundant but I will carry on anyway. And I'm getting good feedback on my commentaries.
Today's name anagram is: D narrow lad's rich
Coby Snowden